May 1 2015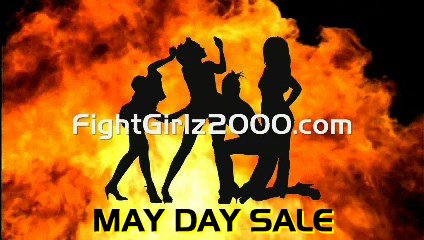 "MAY DAY SALE at FightGirlz2000.com!!!"
1 DAY ONLY
25% OFF ALL VIDEOS
FRIDAY, MAY 1, 2015 ONLY !!!
Sale runs from 12:00 AM until 12:00 PM EDT (Greenwich Mean Time -05:00)
Here's your chance to get all those great clips you've been wanting at reduced prices!
"May Day" on May 1 is an ancient Northern Hemisphere spring festival and usually a public holiday. It is also a traditional spring holiday in many cultures. Dances, singing, and cake are usually part of the celebrations that day.
In recognition of "May Day", FightGirlz2000 has reduced prices on all our videos by 25%.
But this sale is only being held today, May 1, 2015, from 12:00 AM until 12:00 PM Eastern Daylight Time (Greenwich Mean Time -05:00)
[Only Registered Users Can See LinksClick Here To Register]